In a decentralized Future
Blockchains Prosper
Legend tells from a time, eons in the future.
A time way beyond the point where humans were being gifted
with the sacred tools of the gods.
What started as novel experiments and ideas has over time developed
into the most powerful beings within our immediate universe: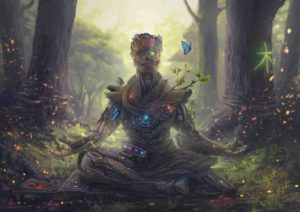 Card 001: Woodcoin's Guardian
Following the values that Woodcoin has brought into its blockchain, Woodcoin's Guardian seeks to protect his fellows by using knowledge of millenia.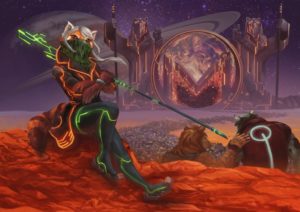 Card 003: L'ourn, Hidden Defender of Monero
Residing on a hidden planet in the outer spiral arms of our galaxy, L'ourn wakefully defends the Monero Worldbridge from any potential threat.
Our Goal
A BLOCKCHAIN TRADING CARD VIDEO GAME
The Age of Chains trading card video game is currently under development. As an immediate objective, we are currently developing a web-based prototype of the game that will enable us to further improve the game through collaborative playtesting with our core community.
Some of our core values, features and anticipated goals include:
Blockchain Cards

High Quality Art

Card Tradability

Card Scarcity

Card Utility
Multiplayer (PvP 1on1)

Evolving Crypto Lore

300+ Cards by Release

An intergalactic Encounter
Prototype in Development

Community Support

Feedback Driven

Underpromise and overdeliver
Epicness

Space Opera

Intergalactic Cultures

The Future Universe

Decentralizing our Galaxy